I am having an issue trying to access Reachview to set up a Reach RTK. So far, here are the steps I've followed:
Successfully installed drivers via the Intel Edison setup tool (using the manual workaround placing the required files in the same directory)

Proceeded with the actual firmware flashing process using the command line approach (since the flashing step did not complete using the setup tool)
2-a. Prepared the directory by placing files into it as follows: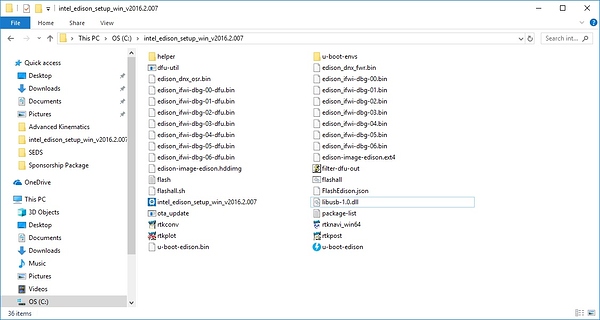 Navigated to the directory and ran flashall.bat

I was prompted with a message waiting for the edison unit, so I plugged in the reach

The flashing process ran (apparently successfully) and I was prompted to wait for Reach to reboot to complete the flashing process before unplugging the unit.

After the LED turned off for a few seconds, I saw a single blue blink followed by solid magenta on the LED (which would suggest either hotspot mode or connected to wifi). This did not change regardless of how long I waited (I assume it should be cycling through several stages in the reboot?)

Unplugged the reach, reconnected to the power source with the same result (single blue blink, solid magenta).

Despite the solid magenta, reach was not creating a hotspot and was not connected to any wifi network. (note: as this was used before, if it is close enough it does connect to my university's wifi network which I can verify with Fing, but I cannot access reachview in my browser using its IP address).

Repeated the flashing process multiple times to see if it would help, but I have the same result.