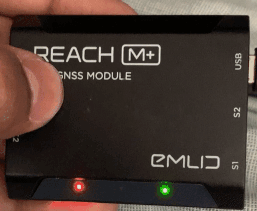 Hello, I recently purchased the Reach M+ and have been trying to set it up. I followed the setup instructions https://docs.emlid.com/reachm-plus/common/reachview/ and I'm facing a consistent issue.
After connecting the Reach M+ to my WiFi network and updating the ReachView App. I try to reboot the device by following:
"ReachView updater will check for software updates and will install them.
Press Reboot and go to the app! button. Wait while device reboots.
In about a minute refresh the page with ReachView app."
My Reach M+ starts flashing the green LED as if it's stuck in Time Sync. When I try to connect to the app through the browser by 192.168.1.x, it says that the connection is refused. After doing a bit of research I realized that my Reach M+ is getting stuck in Time Sync. Can anybody help me out with this issue? I've tried re-flashing the firmware 3-4 times now but without any luck.
When I try to access my device via 192.168.1.x:5000 while it's stuck in Time Sync, it passes all the test, even the Time Sync one.
Please help me figure out a solution, thanks in advance.