We've released a new Reach Firmware 27 update. It's now available for all devices and brings some valuable features and improved stability.
Support for SIM Cards with Authentication
You can now set up the Mobile data connection using M2M SIM cards that require password authentication.
To configure the connection, enable data roaming on your phone or tablet and go to the Mobile data tab in the ReachView 3 app. Then enter your APN (Access Point Name), choose the authentication type and fill in your password and username.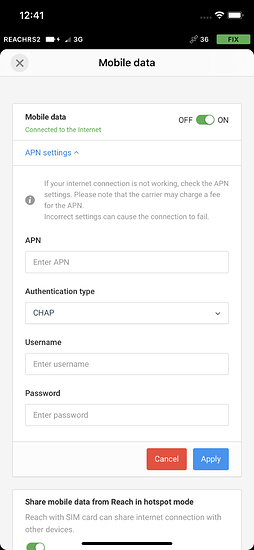 APN authentication settings in the Mobile data tab
Improved Compatibility with OPUS, Upgrading via Mobile Data, and 1230 RTCM3 Messages
In the Reach Firmware 27 update, we've also implemented several other changes:
Improved compatibility with OPUS
Now you can pick an option This log is for OPUS in the RINEX log settings. Also, the log file names format was changed so that they are supported by OPUS.

Unlocked upgrading Reach Firmware via mobile data for Reach RS2
Select the Allow updates using mobile data toggle in the Mobile data tab. You can still download updates via Wi-Fi if the receiver is connected to a Wi-Fi network.

Added 1230 RTCM3 messages for RS2 and M2
In the Corrections Output tab, you can find 1230 RTCM3 messages, which improve RTK quality with GLONASS enabled.
Complete List of Fixes and Improvements
Check out the complete list of changes we've implemented in this release.
Improvements
Supported M2M authentication for SIM cards
Added an option to upgrade Reach Firmware via mobile data for Reach RS2
Supported 1230 RTCM3 messages for Reach RS2 and Reach M2 in the Corrections Output tab
Removed 3 Hz RTK update rate for Reach RS2 and Reach M2
Added reference station ID to NMEA GGA message
Added a banner with ReachView 3 links into Reach Panel
Added validation for the marker_name field in the raw RINEX log configuration. The marker name must contain only A-Z, a-z, 0-9, _, ., - symbols
Few compatibility improvements with OPUS:

Added an option This log is for OPUS in the RINEX log settings
Changed log file names format.
Fixes
Fixed undefined progress in the Updater panel after refreshing the page during firmware upgrading
Disabled setting up NMEA update rates if RTK update rate is not divisible on it
Improved reconnection to Wi-Fi network in case of losing connection
Fixed some issues with unlocking SIM cards by PIN-code on Reach RS2
Enhanced stability of GSM connection
Fixed some cases with sudden Mobile Data toggle turning off
Fixed some cases with Reach RS2 unable to enter the Firmware mode.