Originally published at: https://emlid.com/survey-benchmarks-with-reach/


Rafael Scopel, a surveyor at the Escola Bom Pastor school in Brazil, recently prepared a land surveying workshop for his students with a set of Reach RS+.
The main goal was to re-observe an existing geodetic control network—six control points spread throughout the school grounds. 
Rafael Scopel during the survey work
By knowing the exact coordinates, he could guide the students to capture the same points and correlate their results with real measurements.
Geodetic control network at the Escola Bom Pastor school
With a set of Reach RS+, Rafael measured all the points in RTK mode and got the results shown in the table below. In order to collect data, he used ReachView app.
The yellow column represents the difference between the original points and coordinates surveyed with Reach RS+. All the WGS results were converted into UTM with AutoCAD Civil 3D.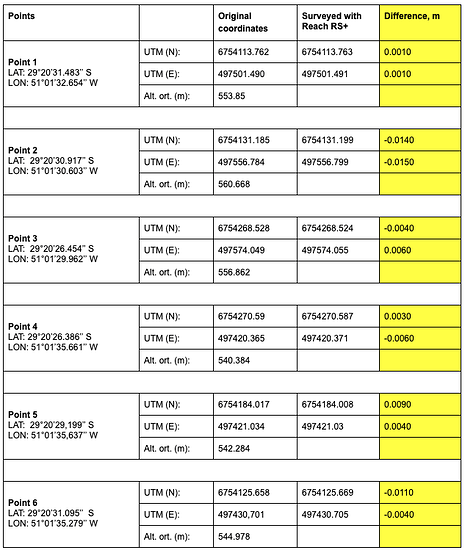 Results of surveying converted into SIRGAS 2000, zone 22S
In the future, students will do the same work with a total station and re-assure that benchmark points are surveyed correctly.
"As a user, I must say that Reach RS+ is a very easy-to-use GNSS receiver at an affordable price. It is a great deal!"— Rafael Scopel de Lima, Surveying Teacher at the Escola Bom Pastor school