Hi all,
I finally got my second RS2 one month ago. Today I could run some tests to check RTK modes (lora and Emlid) compared to PPK.

I run 2 tests:
1-PPK vs RTK (lora internal radio)
PPK. For this I set up the base and recorded 3 points doing the following: I went to first point , turned on the rover, recorded for 2 minutes, turned off the rover. Then I repeated all the same for second and third point.
I post-processed on the field to get the coordinates for the 3 points.
RTK. I set up the base and rover for RTK with lora. I recorded for 5 seconds on every point having FIX with Reachview3
The nearest point was 14.77m from base and the furthest is 1039.26m
The differences between 2min PPK and 5 seconds RTK points are:

This is the entire Post-Processed log from rover. The Float points are because the receiver was inside the car::

2-PPK vs RTK (Emlid Caster)
For this I set up base and rover for RTK with Emlid Caster. I went to a point 3.6km from base and recorded a 5 second point with Reachview3 having FIX, but I stayed 2 minutes on that point to be able to have a 2 min PPK point.
I did the same for a point 8.1km from base. I didn't go further because I was leaving urban area and maybe I would loose internet connection.
The differences between 2min PPK and 5 second RTK points are:

This is the entire Post-Processed log from rover: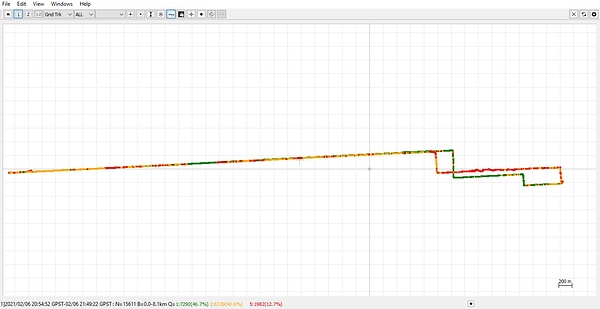 Now I have confidence in my 2 RS2 receivers. I think my workflow will be:
A-Urban and rural areas with 1.5 / 2.0km from base: RTK with Lora internal radio (I still have to check max distance for Lora radio)
B-Urban area where rover is more than 2km from base: RTK with Emlid Caster
C-Rural area where rover is more than 2km from base: PPK