We have mounted a M2+ on a drone, which gets correction data from our Reach RS2+.
The measured position comes in at about 3hz. It seems quite consistent at some points, but has large jumps at a seemingly regular (~9s) interval while the time between datapoints remains consistent.
Our Base also got correction data from a nearby reference station, shown in the emlid app to be coming in at intervals of 0.6 to 1.5 seconds.
Below the measured datapoints are shown in red markers, with a blue line connecting them.
The overall shape of the path matches the real path that our drone made, besides the periodic "teleportation". Our speed was reasonably consistent (0.2-0.4m/s)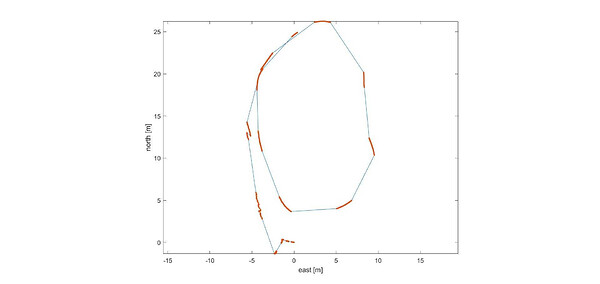 Zooming in shows a reasonably smooth path between datapoints at times:

Does anyone have an idea what can cause this periodic jump, maybe recognise this problem, or has ideas where to start looking for answers?