Hello, Emlid Community!
I'm having trouble getting our RS2 unit (running Firmware 28.1) to receive corrections from an NTRIP connection. I can connect to the address, provide my login credentials, and select a mount point, but the app just displays "Waiting for corrections."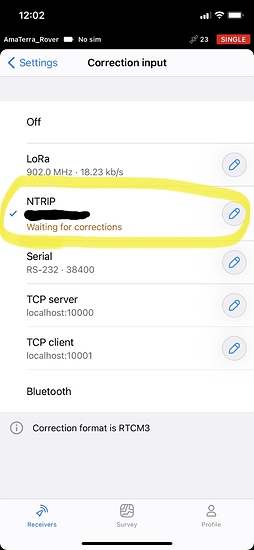 This is the first time that I've tried connecting to an NTRIP server on these devices so perhaps I've missed a setting somewhere.
I've tried connecting through a mobile hotspot and through our office's WiFi. I seem to have a connection because I can select a mount point, but I'm not receiving the correction stream.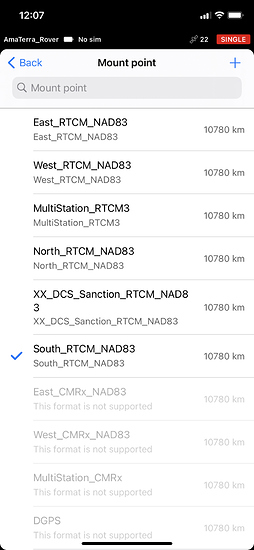 Does anyone have any ideas where I might be off course?
I noticed that the mount points seem really far away but yet I have the "Send receiver's position to the provider" activated.
I contacted the service provider and they show no record of this unit connecting to their system.
I'm very confused. Thank you for any suggestions.
I've added the system report below:
Simple system report

app version: 27.1-r0
current_network:
  ip: 192.168.1.151
  security: wpa-psk
  ssid: ZyXEL04
enabled: true
mode: client
base_mode:
  base_coordinates:
    accumulation: 120
    mode: single-and-hold
  output:
    io_type: 'off'
    settings:
      cloud:
        mount_point: ''
      lora:
        air_rate: 18.23
        frequency: 902000
        output_power: 20
      ntripsvr:
        address: ''
        mount_point: ''
        password: '***'
        port: -1
      serial:
        baud_rate: 38400
        device: ttyEXTS0
      tcpcli:
        address: localhost
        port: 9001
      tcpsvr:
        port: 9000
  rtcm3_messages:
    message_1004:
      enabled: false
      frequency: 1
    message_1006:
      enabled: true
      frequency: 0.1
    message_1008:
      enabled: false
      frequency: 0.1
    message_1012:
      enabled: false
      frequency: 1
    message_1033:
      enabled: false
      frequency: 0.1
    message_1074:
      enabled: true
      frequency: 1
    message_1084:
      enabled: true
      frequency: 1
    message_1094:
      enabled: true
      frequency: 1
    message_1124:
      enabled: true
      frequency: 1
    message_1230:
      enabled: false
      frequency: 0.1
bluetooth:
  enabled: true
  pairing:
    discoverable: true
    pin: '***'
correction_input:
  base_corrections:
    io_type: ntripcli
    settings:
      bluetooth:
        send_position_to_base: false
      cloud:
        mount_point: ''
        send_position_to_base: true
      lora:
        air_rate: 18.23
        frequency: 902000
        output_power: 20
        send_position_to_base: false
      ntripcli:
        address: 168.44.251.90
        mount_point: South_RTCM_NAD83
        password: '***'
        port: 8888
        send_position_to_base: true
        username: 57amater01
      serial:
        baud_rate: 38400
        device: ttyEXTS0
        send_position_to_base: false
      tcpcli:
        address: localhost
        port: 10001
        send_position_to_base: false
      tcpsvr:
        port: 10000
        send_position_to_base: false
device:
  power_on_bottom_connector: false
  privacy_policy_accepted: true
  role: null
  rv3_banner_shown: false
  usage_analysis_accepted: true
logging:
  logs:
    base:
      autostart: false
      format: RTCM3
      started: true
    correction:
      autostart: false
      format: RTCM3
      started: true
    raw:
      autostart: false
      format: UBX
      rinex_options:
        logging_interval: 1
        marker_name: null
        pole_height: null
        satellite_systems:
          beidou: false
          galileo: false
          glonass: false
          gps: true
          qzss: false
          sbas: false
        time_adjustments_enabled: null
      started: true
    solution:
      autostart: false
      format: LLH
      started: true
  settings:
    debug: false
    interval: 24
    overwrite: true
network:
  tcp_over_modem: false
position_output:
  output1:
    io_type: bluetooth
    nmea_settings:
      bluetooth:
        gga:
          enabled: true
          update_rate: 1
        gsa:
          enabled: true
          update_rate: 1
        gst:
          enabled: true
          update_rate: 1
        gsv:
          enabled: true
          update_rate: 1
        main_talker_id: gn
        rmc:
          enabled: true
          update_rate: 1
        vtg:
          enabled: true
          update_rate: 1
        zda:
          enabled: true
          update_rate: 1
      serial:
        gga:
          enabled: true
          update_rate: 1
        gsa:
          enabled: true
          update_rate: 1
        gst:
          enabled: true
          update_rate: 1
        gsv:
          enabled: true
          update_rate: 1
        main_talker_id: gn
        rmc:
          enabled: true
          update_rate: 1
        vtg:
          enabled: true
          update_rate: 1
        zda:
          enabled: true
          update_rate: 1
      tcpcli:
        gga:
          enabled: true
          update_rate: 1
        gsa:
          enabled: true
          update_rate: 1
        gst:
          enabled: true
          update_rate: 1
        gsv:
          enabled: true
          update_rate: 1
        main_talker_id: gn
        rmc:
          enabled: true
          update_rate: 1
        vtg:
          enabled: true
          update_rate: 1
        zda:
          enabled: true
          update_rate: 1
      tcpsvr:
        gga:
          enabled: true
          update_rate: 1
        gsa:
          enabled: true
          update_rate: 1
        gst:
          enabled: true
          update_rate: 1
        gsv:
          enabled: true
          update_rate: 1
        main_talker_id: gn
        rmc:
          enabled: true
          update_rate: 1
        vtg:
          enabled: true
          update_rate: 1
        zda:
          enabled: true
          update_rate: 1
    settings:
      bluetooth:
        format: NMEA
      serial:
        baud_rate: 38400
        device: ttyEXTS0
        format: ERB
      tcpcli:
        address: localhost
        format: ERB
        port: 9000
      tcpsvr:
        format: LLH
        port: 9001
  output2:
    io_type: 'off'
    nmea_settings:
      bluetooth:
        gga:
          enabled: true
          update_rate: 1
        gsa:
          enabled: true
          update_rate: 1
        gst:
          enabled: true
          update_rate: 1
        gsv:
          enabled: true
          update_rate: 1
        main_talker_id: gn
        rmc:
          enabled: true
          update_rate: 1
        vtg:
          enabled: true
          update_rate: 1
        zda:
          enabled: true
          update_rate: 1
      serial:
        gga:
          enabled: true
          update_rate: 1
        gsa:
          enabled: true
          update_rate: 1
        gst:
          enabled: true
          update_rate: 1
        gsv:
          enabled: true
          update_rate: 1
        main_talker_id: gn
        rmc:
          enabled: true
          update_rate: 1
        vtg:
          enabled: true
          update_rate: 1
        zda:
          enabled: true
          update_rate: 1
      tcpcli:
        gga:
          enabled: true
          update_rate: 1
        gsa:
          enabled: true
          update_rate: 1
        gst:
          enabled: true
          update_rate: 1
        gsv:
          enabled: true
          update_rate: 1
        main_talker_id: gn
        rmc:
          enabled: true
          update_rate: 1
        vtg:
          enabled: true
          update_rate: 1
        zda:
          enabled: true
          update_rate: 1
      tcpsvr:
        gga:
          enabled: true
          update_rate: 1
        gsa:
          enabled: true
          update_rate: 1
        gst:
          enabled: true
          update_rate: 1
        gsv:
          enabled: true
          update_rate: 1
        main_talker_id: gn
        rmc:
          enabled: true
          update_rate: 1
        vtg:
          enabled: true
          update_rate: 1
        zda:
          enabled: true
          update_rate: 1
    settings:
      bluetooth:
        format: NMEA
      serial:
        baud_rate: 38400
        device: ttyEXTS0
        format: ERB
      tcpcli:
        address: localhost
        format: ERB
        port: 9000
      tcpsvr:
        format: LLH
        port: 9001
positioning_settings:
  elevation_mask_angle: 15
  glonass_ar_mode: false
  gnss_settings:
    positioning_systems:
      beidou: false
      galileo: true
      glonass: true
      gps: true
      qzss: true
    update_rate: 1
  gps_ar_mode: fix-and-hold
  max_horizontal_acceleration: 1
  max_vertical_acceleration: 1
  positioning_mode: kinematic
  snr_mask: 35
sound:
  mute: false
  volume: 100