how can i download this update? i try today and only got the v2.20.8, thank you.
hi, i cant update my antennas, the version i got is 2.20.8
Hi @capto-uno,
v2.21.1 is the dev version, so you need to enable dev updates in the Settings tab (gear-shaped button) to get it.
got that fixed, thank you, the only info i need is L1 and L2 offsets for postprocessing the raw data on EZsurv, please let me know where i can find this info, thank you.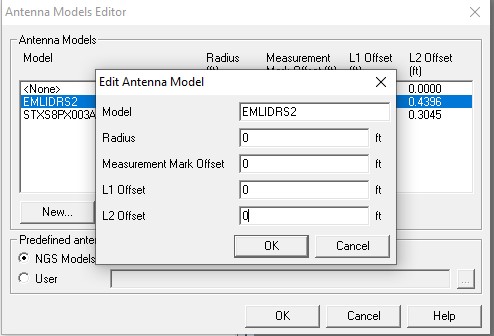 Hi @capto-uno,
We don't have guides describing the post-processing process in EZSurv. However, there are a lot of our users who works with that software, so I hope somebody will help you with that.
It's possible our post-processing in RTKLib tutorial might be of help as well.
But does the information he's looking for exist? I thought APC values weren't available.
Hi @capto-uno, @Gabriel_C,
Sorry I missed that in the previous comment.
We're in process of getting antenna details now. However, you can currently use the distance from the bottom of the unit to ARP which equals 134 mm in L1 and L2 Offset fields.
@tatiana.andreeva I think that extra antenna info will also help when creating a custom NMEA input for Carlson SurvPC also - I recall that it has a similar dialogue box when creating a custom antenna with NMEA input to SurvPC.
you are correct… it will be nice to have those values
Meadurement mark offset 0.134 m
The antenna reference point is the base of the Reach RS2 receiver. From there to the electro-magnetic phase centre is 134mm. This is not the measurement mark offset (see point 2 below). You could use this value for L1 and L2 offset, when creating a custom antenna in your software.

When measuring antenna height at a measurement mark (not to be confused with the ARP), I'd suggest to use a measurement mark offset value of -120mm. Depending on a measurement mark is often the case when you setup an antenna on a tripod. In that case measurement mark will be on the highest point of the parting line between top and bottom parts of an RS2.

For the radius I would suggest to use the radius of the RS2 - 63mm.
I have not yet tested the above, so please put your receiver over some known quality benchmarks to QA the result. Once I've had a chance to test these values, I'll report back here.
Hope this helps, Al.
You're welcome @capto-uno - please let us all know how this works for you.
Regards, Al
This topic was automatically closed 100 days after the last reply. New replies are no longer allowed.