Some questions with the data I should expect to get back:
The Lefebure NTRIP app appears not to be storing the log, or at least I can't find it. The screenshot suggests some problems with permissions?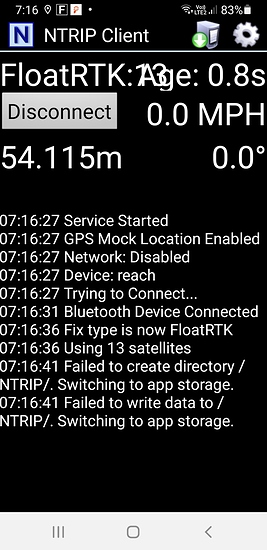 I think there is a log stored on the Reach device, which I will try and get off.
(https://docs.emlid.com/reachrs/reach-panel/logging/)
Another question I have is whether an android device can get data associated with the location data (e.g. estimated accuracy of a fix). It seems a sensible thing to have available, but the specific platemeter app does not record any location "metadata". I'm curious if this is an easy fix for an app developer.
The platemeter app records the data in an sqlite database, which you can explore from R very easily. Reports can be mailed from the app in various forms, but only one of which currently has individual location data (in kml). Ideally I'll come up with a plan to sync the sql database to a more permanent storage. Ideally I would be able to get Lefebure log and reach log in a similar way?