After I have collected 2 known points how can I find a point in the middle for boundary outlines?
Thanks.
You would have to have different software.
At the moment it is not available in Rechview 3, but it will surely be very soon.
In Reachview, you can't, but you could easily do it in applications like Fieldgenius
If you don't want to spend the change for a 3rd-party program you could always use a calculator. Just add the northings/eastings together and divide by half, third or whatever you need. I know it's old school, but could be handy if you are in a bind. Over time though the program would save some man-hours.
Are you using Android or iOS?
You can do it by a 3rd-party aplication Survey Master v2.4.1.190731
Tool > COGO > Defletion point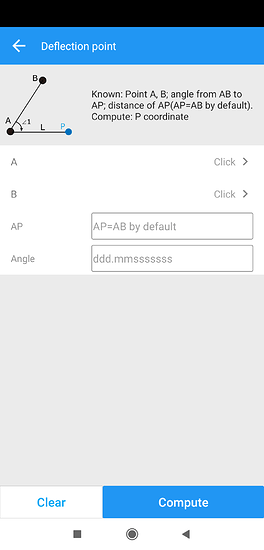 You insert a coordinates of A and B
a distance AP = 0.5 x distance AB
a distance AB can be calculated by Tool > COGO > Two Points
Angle = 0°.
Click Compute and you have a result (X, Y coordinates) that you can save to the list (Element) and Stake Point.
Hi Scott,
Welcome to the community forum!
At the moment, this feature is not available in ReachView. It's in our roadmap, but we can't provide you with any timelines.
However, as our users have mentioned, you can use third-party software for this workflow. You can check out this guide that explains how to get precise coordinates from Reach on an Android device over Bluetooth.
Thanks, I thought about the same thing.
This topic was automatically closed 100 days after the last reply. New replies are no longer allowed.