In fairness we ordered just as they started the manufacturing for new RS+ units, hence the longer delay
That's it! Thanks TB-TRK! ; ) Hopefully it helps Zach and not a problem with the "new" RS+.
Thank you for the video and wished it had helped. Unfortunately my control panel looks different than yours, and I have a Bluetooth Local COM option with no settings to change when clicked, only to create Virtual COMM ports. I've also attached a photo of the error I get from trying to make connection to my Reach model.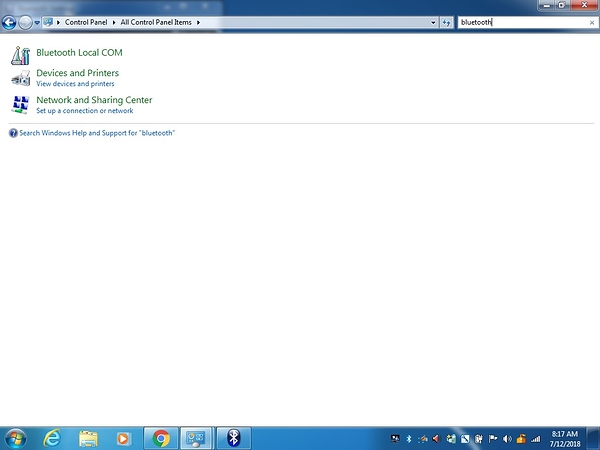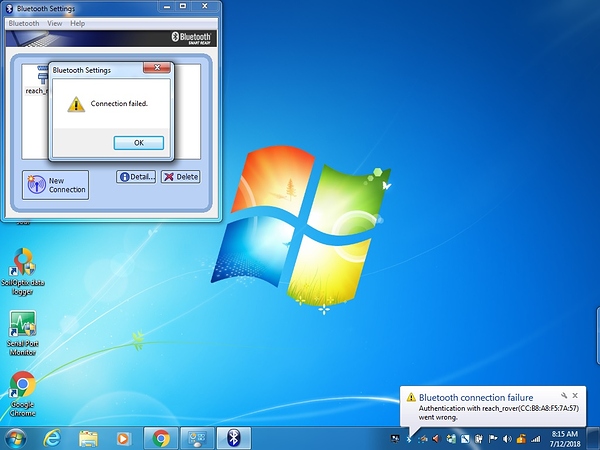 Yeah they will be different with different OS versions but should still have similar or same settings to get things working. I am sure you have exhausted all the variable settings to try to get to work.
Maybe the Emlid people will jump in here.
Windows 10 here…but then again, I am using the non-plus Reach RS units. Looks like your using windows 7.
There might some encryption settings that need toggled? Maybe see if a update available for Windows BT driver?
At what stage in the video did you not make it past?
The Bluetooth COM PORT should be INCOMING for communication from the Reach RS/RS+ correct?
Not OUTGOING COM PORT correct? Wonder if he has them backwards?
Maybe remove the devices altogether and start all over and reinitiate the BT link from scratch?
Same in ReachView BT setup. Make sure to use your BT password code that is in ReachView. Windows is weird, it will give a random code (i.e. 5318008)(read that upside down) and ask if it matches your 123456 code that is in ReachView and select yes and it works? go figure. WHile other programs devices must match the code in ReachView, i.e. 123456.
Here is mine. Its in Norwegian but should show the basic

I think mine is like that also, not with the equipment at the moment.
But always wondered "why" the Outgoing one gets installed 'Reach SPP'? Wonder what "SPP" stands for?
I guess the Incoming is the typical set up that works normally?
Sorry…just confusing, incoming, outgoing.
I think I may have narrowed it down to being a Windows 7 problem. Using other computers with Windows 10 I can connect BT. Currently downloading Windows 10 on our toughbooks to see if it works.
SIDE NOTE: I'm having serious concerns about heat stress on these new units. Have never had them unexpectedly shutdown while in the sun. 3 units that I've tested so far today have all at some point shutdown while outside in the sun. Anyone having similar problems?
What kind of temperature do you have?
I can confirm that indeed for PC Bluetooth to work you need to be running Windows 10. I unfortunately cannot specify if Windows 8 works (no one uses that anyways

) but Windows 7 causes BT not to connect. I appreciate ALL the feedback in getting this resolved and hope it helps others down the road as well.
Should work on Windows 7. Either way at least you moved on up and working. Windows 10 is great.
It could be the BT interface on these toughbooks running Windows 7, maybe that should be clarified. Thank you Tim.
Hi @zach,
Let me know if you still have the problem with BT connection on Windows7?
I have updated all our OS to Windows10 so I can't speak to any continuing issues with Windows7 BT connectivity
Alright, we'll do further tests with Win7 to see if we could reproduce this problem.
Thanks!
This topic was automatically closed 100 days after the last reply. New replies are no longer allowed.