Hi all,
We are not a survey company, therefore we are going to avoid digging through the published network of coordinates (known monuments) throughout our province. We also do not have an RTK (NTRIP) subscription yet. Located in CANADA. We have two Reach RS2 receivers.
However, we need at least 0.50 - 1.00m absolute precision.
Looking through the docs, there's some options we have.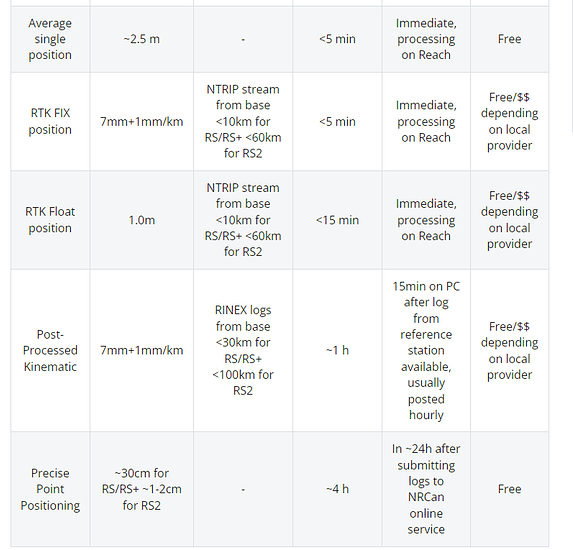 Now, here's my questions & options (preferably help me out with Q2!)
Average single position - I'm assuming that this is an autonomous position. Accuracy of 2.5m. Does the accuracy increase as the occupation time increases? How are we looking at say, 2 hours of static observation?

Post-Processed Kinematic - this requires no NTRIP subscription, correct?
From what I understand, basically we take the two RINEX files (one from the rover, one from the base) and process this in software after the survey is completed? Then the corrections are applied?
In the notes: "15min on PC after log from reference station available, usually posted hourly". What reference station are they referring to? Something from NRCAN that is not PPP?
Also, what software do you recommend? RTKLib? Emlid Studio?

Precise Point Positioning - I have used NRCAN's PPP service before. The only downside is the time constraint.
Thanks guys. Appreciate it and happy to become apart of the Emlid community.