Hello y'all
I'm working on a surveying project right now, and I'm having a little bit of trouble regarding the Antenna height.
I'm using the base+rover setup, rtk mode, I have a stretch of 1.3 km to survey, approximately 600 points to collect, and will do the job in 2 days (300 points per day).
On day 1, I'll place the base at the top of a hill near the stretch (using a tripod, a leveling base and an extension), something like this: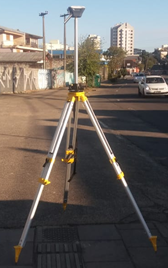 Since I didn't position my base over a known control point, I'll be using the Average Single option (Base mode -> Base Coordinates -> Coordinates Input Mode). I only made a small "X" on the ground, so I can return on day 2 and position the base on the exact same spot. This whole setup measures 1.925 m from the ground to the L1 phase.
I could position the base on a known control point, but I'll be leaving the base unattended, and out of my sight – something I don't wanna do. I'll collect all the data I need, and then will collect the known control point (at the end of day 2), and make the necessary adjustments.
Using the Average Single on base mode, I had the following results:
Lat: 29,143…
Long: 57,17…
Height: 732,414 m
After setting up the base, I proceed with the surveying, and collect 300 points. And that's the end of day 1.
On day 2, I'll position the base at the exact same spot that was on day 1, since I've made a small mark on the ground to locate it. But instead of using the Average Single on base mode, I'll use the Manual Coordinates, that I've collected on Day 1 (Lat: 29,143… Long: 57,17… Height: 732,414 m)
The problem is, when you use the Average Single, there's no field to input the Antenna Height – it only appears using the Manual Input Mode.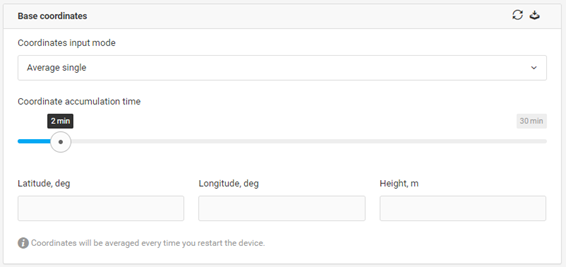 Input mode: average single. No antenna height input.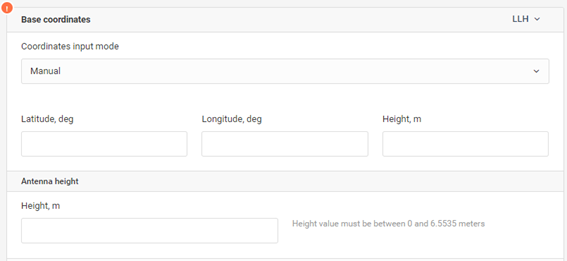 Input mode: manual. Antenna height available.
So, on day 2, which value should I put on the Antenna Height? Should I consider the 1.925 m from my initial setup, on day 1? Should I mark it zero dudes?
Help me out with my train of thought here, I'm kind of lost.
Cheers.